I'm generally quite a cautious person. So when I discovered my Powerbook battery was one of those in the current product recall, I did as suggested by Apple and removed the battery, and ran it off the power supply instead.
Big mistake. BIG mistake.
I often use my Powerbook while sitting on the bed, and this morning I was doing just that, when I went to put the kettle on. I closed the lid, putting the Powerbook to sleep and went to the kitchen.
I came back a couple of minutes later to discover smoke and sparks coming from the bed. It seems my Powerbook was jealous of all the other burning Macs and wanted to get in on the fun. Except this time it was the power cable that decided to burn: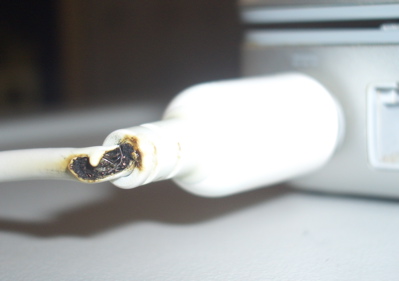 Now, I admit this is a very small fire compared to what others have experienced, but it was enough to burn my bed. And I'm quite certain if I had left it and gone out, the whole bed (and probably the flat) would have gone up in flames.
Luckily, I quickly managed to switch it off at the mains and stop things getting any worse.
Anyway, I need the Powerbook in order to get any work done, so I immediately took the power supply back to the Apple Store in Regent Street.
I explained to one of the staff that my Powerbook was just over a year old and out of warranty, but as it had caught fire, I'd really quite like a replacement. The conversation went like this:
Apple Guy: Did you get extended Apple Cover?

Me: No

Apple Guy: In that case I can't give you a replacement

Me: But it *caught fire*

Apple Guy: Nothing I can do.

Me: What if it had burnt my house down?

Apple Guy: Um. Sue Apple.
Yes, an Apple employee suggested I sue Apple. Admittedly this was a response to my "what if…" scenario, but I was still shocked. I'm fairly sure it's not Apple company policy to suggest to customers they sue Apple.
I asked another staff member at the counter if I could get a replacement, and he again refused. At this point, I decided I'd just have to buy a new one or be left laptopless.
The more I think about this, the more annoyed I am. And worried. I'm not supposed to use my Powerbook on battery power, and I don't feel particularly safe using it on mains power either. I'm a die-hard Apple fan, but I certainly won't be buying any more Apple computers if this is the best level of service Apple can provide.
Update: 
It seems I'm not alone in having a burning Powerbook power supply. These Flickr photos show people with exactly the same problem. So why hasn't there been a power supply recall too? Are Apple waiting for someone's house to burn down?
http://www.flickr.com/photos/ch/174843429/
http://www.flickr.com/photos/anthonygrimley/151852448/